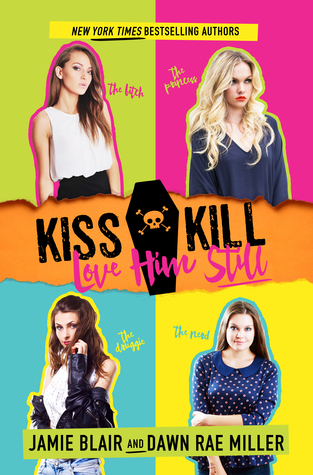 Review: Kiss, Kill , Love Him Still - Book #1 KKLHS Series - Jamie Blair and Dawn Rae Miller - November 2015
Have you read The Perfectionists series by Sara Shepard ? This is what Jamie Blair and Dawn Rae Miller's new book and series reminded me of with a twist. Jackson Landis is dead and it seems that he loved his secrets and was never short of sexual partners as these four girls are about to discover when on the day of his funeral - they each turn up mourning him as they all loved him. The twist is that neither knew about each other except for a few little hints that Jackson dropped between the girls about each other from Haddie - the nerd who did his homework and got sex on the side , from Reggie - the campus drug dealer who met Jackson while selling him drugs , Val - a closet lesbian who had a thing not only for Jackson but also his girlfriend - the spoilt princess Livie. Each of the girls are suspects in Jackson's murder and will find each other over the next few days in each other's way. Can the girls who had one thing in common band together to find out who killed Jackson or will their secrets and jealousy over Jackson continue to mess the investigation up and have fingers and police pointed their way ?
Find out in Book #1 of this Teen Whodunnit Murder Mystery , where everyone is a suspect and has a secret that they want hidden.
Kiss Kill Love Him Still is the perfect read for fans of Sara Shepard's work in Pretty Little Liars , The Perfectionists and Elle Cosimano's series Nearly Gone.