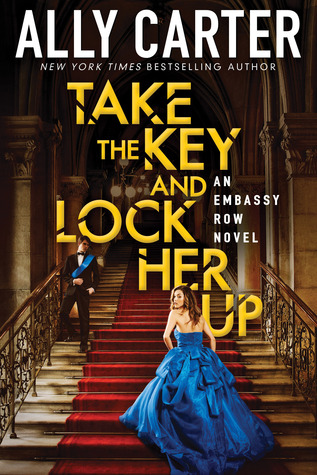 Review: Take the Key and Lock Her Up - Book #3 Embassy Row Series - Ally Carter - December 2016
Centuries ago in the land of

Adria,

the royal family were killed in a

siege.

One member of the royal family escaped though, the youngest who was a baby at the time - Princess Amelia. Princess Amelia

has been smuggled

away and hidden, they changed her

name,

and people never knew she was alive. Sure

there

were

rumors,

but they

were always squashed

. Grace's mother knew Amelia was kept alive and spent her time along with Alexis's mother searching for the ancestors of Amelia as they would now be the rightful heirs to the throne of Adria.

It turns

out that the rightful heirs are in fact Grace and her

brother.

Now they are being hunted by people they thought they could trust as nobody wants the secret especially the Society of Amelia to come out. Grace's mother

was killed

by

her discovery and Alexis's mother

hidden.

Will Grace and her brother be the next ones to be killed

at

every corner they

turn,

there is someone waiting in the shadows who doesn't want the truth to

be revealed

. I have to admit compared to Ally Carter's Gallagher Girls and Heist Society

books; the

Embassy Row is a bit slower but just as much

adventure,

murder and mayhem happening. Fans of the series will enjoy Book #3 as it answers many questions that have been left hanging in the previous two novels.