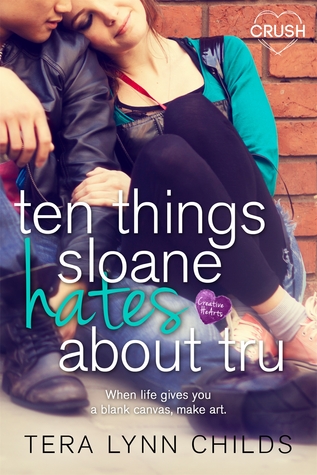 Review: Ten Things Sloane Hates about Tru - Book #1 Creative HeArts Series - Tera Lynn Childs - September 2015
When I first saw the title of this book, it sprung to mind one of my all time favourite movies Ten Things I Hate About You which I am guessing the author probably was inspired from to get the title of her book, the second thing was that I loved the author's previous work of the Oh My Gods, Medusa Girls and Fins series. I have also quite enjoyed the other books that I have read in the Entangled Crush range. In this book we meet Sloane who has been uprooted to Texas from New York , after an incident involving vandalism and activist art caused her to get arrested. Now while her dad and brother are still in New York, Sloane and her mother are in Texas and living right next door to her mother's old college friend Mrs Dorsey which is Tru's mother. Sloane is an artist and the secret creator of the graphic novel online series Graphic Girrl. In Texas , she will attend Next Gen which is an Art and Drama high school for the talented and creative souls , that don't exactly fit in "normal" world. When Sloane and others are up for an award to win a college scholarship, the pressure is on but what happens when each of the canidates start to have something go wrong from cheating to stolen property and eventually someone replicating Sloane's artwork from the "incident". Who is to blame, especially when Tru takes the blame which as Sloane is starting to realise , he is actually not that bad a guy and this action could be the final nail in the coffin as Tru's home life isn't as perfect as people make it out to be. Like Kat warmed up to Patrick in Ten Things I Hate about You and fell in love with him, will the same happen to Sloane with Tru in Ten Things Sloane Hates about Tru ?
Find out in Book #1 of Tera Lynn Childs's new series today.