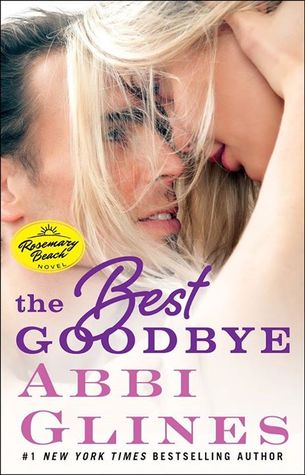 Review: The Best Goodbye - Book #12 Rosemary Beach Series - Abbi Glines - December 2015
If I had to pick a series that would be one of my

favorites

or at least in my Top Five lists, it would have to be the Rosemary Beach series as everytime I read one of those

books; I

get happy as I get to catch up with the characters from previous

books.

I love how everything just

connects

. In The Best Goodbye it tells the rocky love tale of Captain aka River Kipling - Remember River is Blaire's half brother that has come onto the scene in Mase and Reece's stories and Rose aka Addy. Years

ago,

these two met when Addy

was placed

in a foster home run by River's mother at the

time.

She fell in love with River over the

years,

and he loved her too - more than siblings, these two were meant to be together.

The pair as they get older, eventually sleep together and then tragedy strikes and Addy ends up in the hospital and alone.

Years pass and the two

lose

contact, River who now goes by the name Captain believes his Addy died. The truth is Addy known now as Rose escaped and had a baby girl - Captain's daughter. Her daughter keeps asking about meeting her father, so Rose goes to work for Captain to see if he is worthy of her daughter's love or whether he will hurt and destroy her. There is something about Rose that Captain can't put his finger on as she is

secretive,

but she reminds him of

someone,

what will happen when the pair start spending time

together,

and Captain discovers the truth of who Rose is and what she's been hiding from him all these

years?

Is Captain ready to be a father or more so does he believe he deserves to be one especially after he has spent most of his life as a

mercenary?

Will the Best Goodbye have Captain saying Goodbye to his past and moving forward to his future or will Rose not find him worthy of gaining her daughter's trust and love as she has done everything in her power to protect her daughter from the life she lived and

experienced?

Find out in another amazing book in the series Rosemary Beach. A series that everyone should add to their must-read lists as if you love New Adult books, this series will not disappoint.