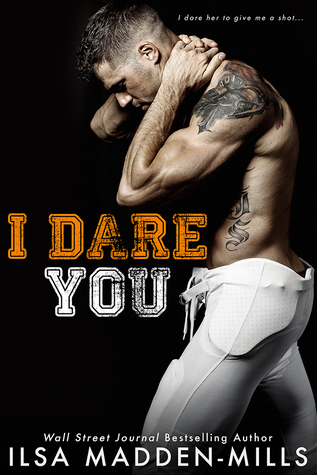 Review: I Dare You - Book #1 The Hook-Up Series - Ilsa Madden-Mills - April 2018
This particular book had me captured from the title "I Dare You" as if there is something that I enjoy it's a good game of truth and

dare,

add this to the mix on top of a secret texter and that made me push this book up to the top of my reading list. If you are like me and love Nerd Girl meets and falls in love with Hot Jock then this is a book for you. The only downside for me was that the title is a little bit misleading as there is only one dare in the book rather than a whole lot. One thing that I loved about this book was the 80's references to pop culture and movies

; this

appealed to my inner geek chic side. Delaney Shaw has started college and is out at a party with one of her friends where she captures the attention if you guessed it, the hot sports jock Maverick. During the book, Delaney ends up with another sports jock and Maverick backs off until Delaney becomes unattached and now is his turn to win her over. The thing is though he is going to have to try extra hard now as she has sworn off all JOCKS especially football stars like Maverick.
If you are looking for a

fun,

NA college romance filled with 80's pop culture references and the Nerd falls for the Jock storyline then check out Ilsa Madden-Mills new book "I Dare You

."

You heard me,

readers; I

Dare You to go out and grab your copy today.