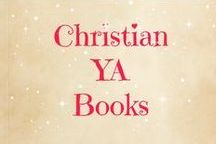 Review: The Embittered Ruby - Book #2 Diamond Estates Novel - Nicole O'Dell - April 2012
Something that is often shied away from is the genre of Christian

fiction.

It seems to be only the "

Christians

' that go for it as the others believe it will either be not something that they will enjoy or they believe it will be all up in the trying to convert and bible bash you. The thing is that what most people don't

realize

is that today's Christian Fiction for the YA audience holds an edgy feel to it and reflects issues that go on in the lives of

Christian

and

non-Christian

teens. A series that I had first discovered back in January 2013 was Nicole O'Dell's Diamond Estate Novels. I

was hooked

after reading Book #3 and decided to go back and check out Books #1 and #2. The Embittered Ruby is Book #2 in the

series.

In this

one,

we meet

sixteen-year-old

Carmen Castillo who has a wealthy boyfriend, belongs to a country club and has two loving parents and off to greatness with her tennis and private schooling. That is until her

parent's

marriage starts to crumble and her dad leaves her mother for his secretary Tiffany. Soon the life Carmen knows will be ripped away from her as they move across town to a poorer area filled with gangs and public schooling. Her parents married

originally

when Carmen was born, so Carmen concocts a plan to fall pregnant to Nick - her boyfriend and then he will marry her and rescue her from this poor life. Things start to go well and eventually too well as Carmen's plans come

into

play but what will happen when tragedy strikes and everything Carmen has created has

unraveled,

and she is back to square one, but this time with no support. When her

mom

hears about a Christian support type rehab for teenage

girls,

her

mom

signs Carmen

along,

and she is shipped off to the Diamond Estates. During her time here, she will meet a variety of characters - some good influences and others

bad?

What will Carmen choose to follow when it comes down to her

survival?

Will she pick the path she

was taken

before

the Estates or will she choose to put her faith and self in God's

way?

Find out in The Embittered Ruby by Nicole

O'Dell,

Book #2 in the Diamond Estate series. A series that not only instills a Christian value but also targets Edgy family issues and topics in a Christian manner.