Are you a fan of Max Lucado's works ? Looking for the perfect Christian Picture Book for your child ?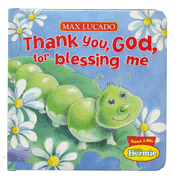 Review: Thank You God, For Blessing Me- Max Lucado- 2011
Looking for that perfect picture book for your child aged 0-5 years ? Wanting to teach them all about God's blessings and the wonderful things that he does and can provide for us all ?
Join Max Lucado as he presents his character the lovable caterpillar Hermie , Hermie shares with us in this cute 5pg adorable board book all the things that God has done for him that he is thankful for from providing him with food, shelter to having awesome friends.
This would make a godly and wonderful addition to any Christian home and child's collection.