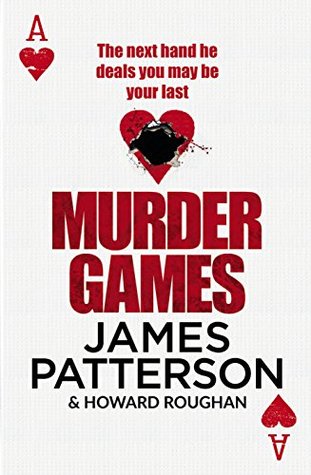 Review: Murder Games - James Patterson and Howard Roughan - June 2017
Murder Games is a standalone book by James Patterson and Howard Roughan. At

first,

I was a bit on the fence about reading this one as I have to

admit

when the books

are co-written

by Howard Roughan I haven't enjoyed the stories as much.

However,

in Murder Games, Howard redeemed himself as I found myself getting really into the book. Someone is killing people around the city and leaving playing cards as a calling card and also as clues to who the next victim might be. The police aren't getting anywhere with the case, so they decide to break a few rules and get Dylan Reinhart a professor of abnormal

behavior

into help the investigation. The thing is that Dylan has

the past

and doesn't want it getting out as he was in fact not always a professor. I did get a surprise in the book when we found out that Dylan was gay as this is the first time that a GLBT character has

been written

into a James Patterson novel. As more people start to die and they are still behind on the killer aka The Dealer. Dylan and Elizabeth must try and find a connection between the victims before it's too late and more people continue to die at the hand of the Dealer especially since there are 52 cards in a pack. If you are a fan of James Patterson's books and looking for a good standalone

mystery,

then Murder Games by James Patterson and Howard Roughan is the book for you.