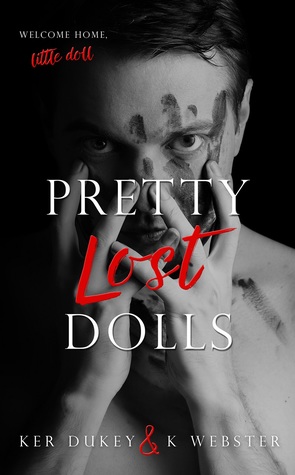 Review: Pretty Lost Dolls - Book #2 Pretty Little Dolls - Ker Dukey and K. Webster - November 2016

Lately,
I have been on a Dark Fiction

kick,

and after talking to one of my book

friends,

we both decided to read this series. Pretty Lost Dolls starts up where Book #1 finished as Jade and Bo find themselves kidnapped by Benny who now goes as Benjamin. Jade is once again the Pretty Little

Doll,

and Bo is Macy's plaything. Jade is reunited with her sister, but is shocked to find her sister is now just as

psychotic

and crazy as

Benny,

maybe even worse. Can Jade's partner and new lover Dillon Scott find her and save her once again from Benny's

clutches?

In Book #2 we also get more of Benny's backstory and find out what kind of life he grew up with and what happened to his sister Bethany and eventually how the Dolls idea and killings came into play. OMG the shocking twist for me in Pretty Lost Dolls was discovering who Benny's father was and the role he has been playing in Jade's life while she was

free.

I didn't see that coming. Once again Jade gets free, but what happens when they take a new little dolly to play with - this time in the form of Dillon's

niece,

Jasmine?

This series is getting darker and crazier as the books go on and perfect if you love dark and edgy fiction novels and not afraid of rape,

abuse,

and torture in books. The other thing I have found this series doing is getting the Miss Polly song stuck in my

head,

and yes I did sing along to the lyrics and the

deadications

.