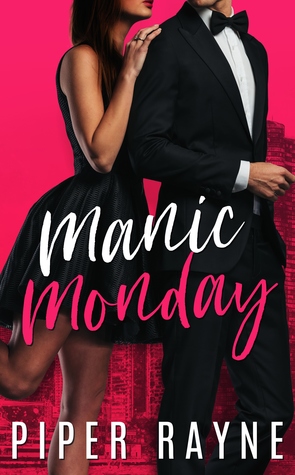 Review: Manic Monday - Book #1 Charity Case Series - Piper Rayne - April 2018
This book drew me in with the bright cover as I have a confession to make that Hot Pink is one of my

favorite

colors

. Like most books I

read,

I have a fair idea what they are about,

but

it isn't until I start reading them,

and

then they surprise me. In the case of Manic Monday, I knew from the blurb that the main character Victoria

had

divorced her husband and along with her daughter Jade has moved back home to her mothers home in the

small town

she was

from

. Leaving her old job, she was recommended by her boss to a new one run by

Hannah.

This

was one of my

favorite

parts of the book was the chemistry and banter between the three employees at

RISE

. It made the book and also

have

you thinking, I want to work there,

or

I want my workplace to be like that. When Victoria drops Jade off at her new school, she is about to get a blast from her past as pulling up with a little boy Henry in Jade's class is Reed Warner - looking as hot as ever. Reed Warner happened to be Victoria's best man at her wedding to her now ex-husband and was his former best friend until they went their separate ways. We read as sparks fly between Reed and Victoria, but after being hurt by her ex, can Victoria open her heart to a possible relationship with

Reed?

Even if means going against her now the

new

policy of not dating

lawyers?

Find out in this romance story filled with laughs and sweet moments and steamy scenes. A series that I now can't wait to read Book #2 Afternoon Delights when it is released.