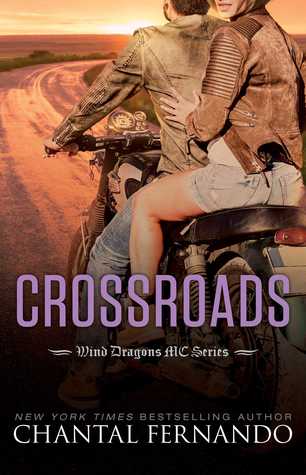 Review: Crossroads - Book #6 Wind Dragons MC Series - Chantal Fernando - March 2017
When it comes to MC

Novels,

I am often sitting on the fence with them as some of them feel the same story over and over again. One MC series that I always seem to connect and enjoy is Chantal Fernando's "Wind Dragons MC" series. I think it is because the people in the Wind Dragons MC seem to be very family orientated and not a rough and tumble club and ones that sleep around and have an endless line of girls in and out. I have always been able to connect with the characters whether female or male in Chantal's series. Crossroads main guy Ranger aka Cam has to be one of my

favorites

in her series and I have now added him to my Book Boyfriend list. Ranger had some trouble with his old MC gang and joined with best friend Talon - the Wind Dragons MC. Here he was finally finding his spot in life and feeling part of a family. Sin's wife Faye asks Ranger for help on a case as a female has

been kidnapped

from a Biker Bar.

It turns

out that Ranger knows the female from High School - back when life was

carefree,

and

he was known as

Cam.

Her name is

Elizabeth,

the only female he ever considered a friend. Ranger accepts and starts to work the case with female police officer Jo who is also Elizabeth's cousin. For

Ranger,

there is an instant attraction to Jo, but she won't be one to roll over that easy. During the book, we read the growing chemistry between the pair as they go on the hunt for Elizabeth and finally track her down just as Jo and Ranger are starting their romance. What will happen when Jo

realizes

that Ranger is aka Cam - the one who Elizabeth always says got away - the one she thought she would have a HEA with ? Can Ranger prove to Jo that he wants her and not Elizabeth and that he always viewed Elizabeth as a friend and a summer fling and that Jo is the one he wants to spend his life with together , even if it means he has to sacrifice the Wind Dragons MC for her ? Find out in Crossroads by Chantal Fernando. This is an MC group that you will instantly fall in love with and want to be a part of it.