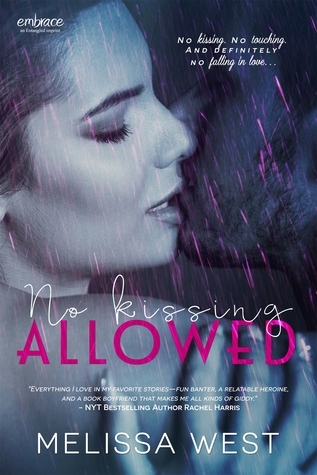 Review: No Kissing Allowed - Melissa West - July 2015
The night before Cameron and her best friends were about to start their internships after their final summer , they decided to let loose and hang ten by wagering a bet to complete a list of things before they become "mature" adults. One of the things on the list was to hook up and kiss a stranger, for the others that is an easy task but for Cameron Lawson she is not that type of girl as all her previous relationships have been long-terms. Though, one thing that Cameron Lawson does like to do is win and she's not about to go down without a fight. In the bar they are in, she spots a guy in a UT hat and he overhears their conversation and laughs. He ends up being her kiss for the night and a bit more as the next morning she wakes up in his bed. The two of them head their separate way as NYC is a big place and they won't see each other again or the likelihood is quite slim. Cameron arrives at her new job at Sanderson-Lowe - an advertising firm where she is the new account manager. Turns out though she will discover at her first meeting that the guy she hooked up with is her boss's boss and the Chief Creative Director Adrian Truitt who is known for his dating habits and flings/ one night stands. The thing is though that their is a no-dating policy at Sanderson-Lowe. Can the pair of them keep their hands off each other or will Cameron's job be over before it started ?
No Kissing Allowed by Melissa West reminded me a bit of Sophie Kinsella's book "Can you Keep A Secret"? which was one of the first chicklit books I read.