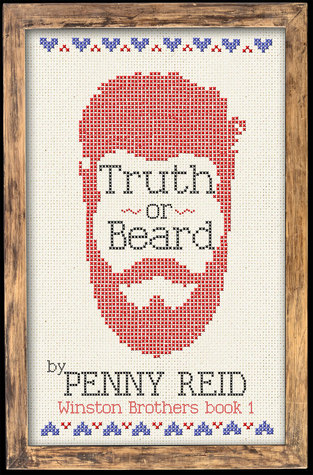 Review: Truth or Beard - Book #1 Winston Brothers - Penny Reid - July 2015
Firstly, I love everything that Penny Reid writes as her humour shines through her books and makes me laugh and in places, especially the part about the bananas and coconuts rubbing together and how Jackson's Banana has been wrapped a few times made me crack up and I read it aloud to my partner. The second thing is I adore this cover, with the whole crossstitch imagery going on. So when I had heard that Penny Reid had a new book out , I knew I had to read and try it. I have to say, I did enjoy it but not as much as her other series. In Truth or Beard, we meet Jessica James who is a sexy maths teacher - yes it does happen, I had a sexy science teacher in high school who actually in the same year turned out to be a guest at my cousin's wedding. All through her schooling , she had a major crush on Beau Winston - one of the twins , he made her swoon whereas Duane Winston - the other twin got her all riled up. Years pass and they are all back in the same town and now it seems that Jessica is falling for not Beau but Duane. If that wasn't bad enough, she has just found out her parents aren't actually her parents - that she was adopted by her Aunt when she was a baby. For this storyline , I was hoping that we would discover more about Jessica's biological dad as I had wondered if he was Razor - part of the Iron Dragons MC.
Truth or Beard was another great story by Penny Reid and if you love humour with your romance then this is the read for you . I am looking forward to reading more of The Winston Brothers as the other thing I enjoyed about this book was the great family chemistry and connection between The Winston Brothers despite how dysfunctional and troublesome their family had been portrayed.