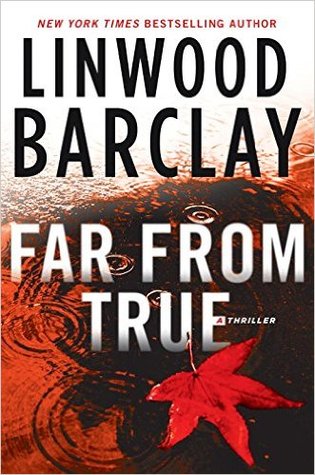 Review: Far From True - Book #2 Promise Falls - March 2016
One of my favourite mystery/thriller writers is Linwood Barclay, I have to say except for one of his earlier books that I couldn't finish as the plot was too busy for me, I have read all of his books and I am loving the Promise Falls series and heads up to readers, that Far From True ends in a major cliffhanger and when I read the last page , I have to say I was like NOOOOOO as now I have to wait a while for the next one to be released. I do have to say though that if you don't like busy plots or aren't keen on having numerous storylines and find yourself getting confused with so many different characters, then unfortunately this series isn't for you. One of the biggest things I love about the Promise Falls series and Book #2 continued it , is that and I'm not sure if it's been intentional or not but a few of the characters and settings - are found in earlier stories as well as a couple of the incidents mentioned . In Far From True you are immediately chucked into the story when the cinema screen at the local drive-in movie theatre comes crashing down and killing four people. Two of those people are Adam and his wife Miriam or so we believe , Far From True has a strong thread from Adam's death and his extra-curricular activities. In parts, you will also see how everything and everyone is connected and it will leave you grasping to discover what the "big picture is " . Readers, also stay away from the Number #23 as that still plays a big part in the book and I am holding out now for the last book as I want to see how "23" is relevant to the story. If you love Mysteries and Thrillers and sometimes complex plots and a book that is written at a fast pace , then you need to check out Linwood Barclay's
"Promise Falls" series today.