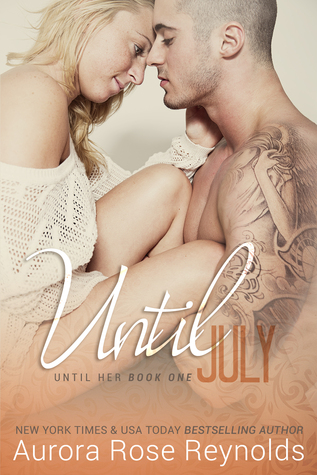 Review: Until July - Book #1 Until Her Series - Aurora Rose Reynolds - April 2015
July Mayson hasn't really had time for dating as she is too busy running her own Vet business and enjoying life. That is until one day while out riding her bike, she runs into a MC gang and things get a little heated. The leader is Wes Silver, he is the type of guy who is used to getting what he wants and having any girl he likes and more importantly he has never had to go out of his way to woo a girl and get her to like him. He is immediately attracted to July and he wants her, but she will show him that she isn't just another of his whores and is definitely not the type of girl he wants to mess with. It seems that Wes has his work cut out for him , if he wants to win over July's love. The other storyline that runs through this book that gives it the edgier New Adult feel is that someone has been leaving half-dead and injured dogs on her doorstep to fix. These dogs have obviously been used for fighting dogs and July wants to get to the bottom of it and discover who has been doing this. What will happen when she gets too close to the guys involved and we discover that unlike Wes's MC gang, this is one you don't want to mess with especially when July finds herself kidnapped. Will Wes get her back and prove to her that she has him wrapped around her little finger or will the ordeal of being kidnapped by Bikers and MC's cause July to back off and look for a safer dating option in men ?
Find out in "Until July" , the first book in the new series by Aurora Rose Reynolds.