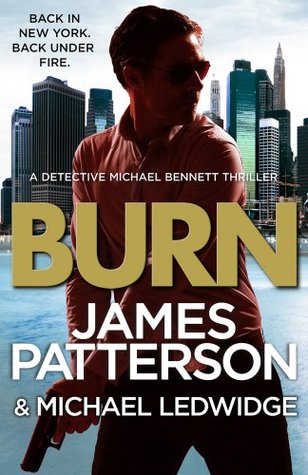 Review: Burn - Book #7 Michael Bennett - James Patterson and Michael Ledwidge - September 2014
The Bennetts are back in New York City after being placed in a Witness Protection as the cartel

is

after Michael since he killed their

leader.

During this

time,

several people have a bounty on Michael and his families head and if that wasn't bad enough Michael has some family issues to deal

with

. One of his daughter's biological father has come back into the picture and

wanted

his daughter and will fight till he has custody despite being with Michael's family from the day she was born and Seamus - Michael's Dad has had a heart attack. Will the Bennett family survive just as they have

before?

After the cartel bust went down, Michael is in some of the police

chiefs'

bad books and has

been reassigned

to

an inner-city

squad filled with police rejects and the misfits. Can Michael whip the team into shape and help them become the policeman and policewomen they trained to

be?

What will happen though when his team stumble across a rich man's cannibal feast and as people get closer to the

crime,

they either disappear or

die?

As I have read so many James Patterson

novels,

I think for me nowadays the best thing about reading his series is being reunited and reacquainted with the characters as you feel like you are part of the Cross family or NYPD or

regarding

the Michael Bennett series - The Bennett family Tribe. If you love your mystery novels and are a fan of James Patterson's Michael Bennett

series,

then check out Book #7 - Burn and for those who love the romance - we get a development into the Michael Bennett and Mary Catherine love

story.