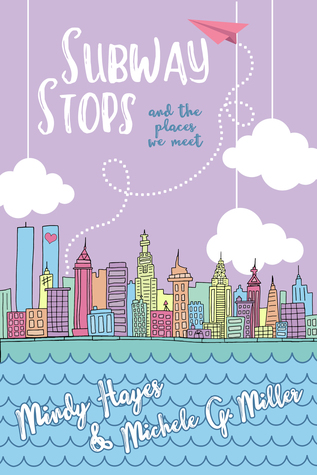 Review: Subway Stops and the Places we Meet - Book #2 Paper Planes Series - Michele G Miller and Mindy Hayes - February 2017
I have to admit when I first saw this

book,

I was eager to read it as I had loved the first book and had high expectations for this one.

Also,

the idea of fate meetings has been something I have always loved and thought romantic. The book starts off with a memorial service held for those who knew people who died in the Flight 397 which crashed off Long Island in June 1992. The book starts one year

later; Cole

is there with his younger siblings Brett and Amber. Amber locks herself in the toilet and Cole asks someone for help - that someone is Sam. They thank one

another,

and they go their separate ways. Months

later,

Cole is lining up for

lunch,

and Sam is in the same line.

This is

their second meeting. Their third will be months later again when Cole is heading home from his shift on the

Subway,

Sam is seated there and headed to her friend Monica's house. Throughout the

book,

Sam and Cole keep bumping into one another and eventually become really good

friends.

The thing is though that everyone but Sam and Cole

thinks

they should be together.

I have to admit as I am not the type who likes to play games with people's hearts and emotions , this sort of book annoyed the heck out of me as I was like - Ok, you both lost people in the plane crash - move on and be together, stop all this back and forth.

I know the idea was to have them meeting each other over and over again, but it got a bit too

long,

and the story just started to lose pace and float along. As it

was,

to be honest, would take another three years for them finally to move

on,

accept one another and begin dating. What I did find interesting about this book, was finding out some historical moments that happened in the early 90's like the bombing of the World Trade Centre in 1993. This surprised e as I was only aware of the terrorist attack in 2001. I think personally for me, if the book hadn't dragged on and had too much game playing for

me, I

would have given it a possible

4Ps

instead of 3P's.