VBT# Two Can Keep A Secret - Karen McManus (Part #2/2)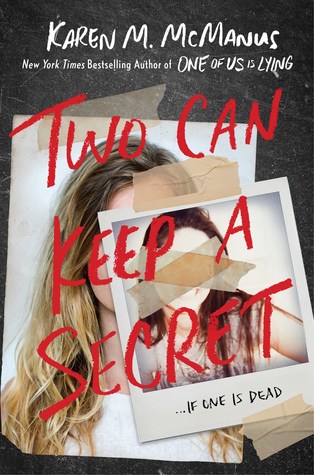 Review: Two Can Keep a Secret - Karen McManus - January 2019

As soon as I saw the title of this book, I knew I wanted to read it as I had loved Karen's first book One of Us is Lying. This book also made me begin to have the Pretty Little Liars theme song running through my head and reignited happy memories. If you have read The Cheerleaders by Kara

Thomas,

then Two Can Keep a Secret will give you flashbacks to that series as I found parts of it quite similar. In this book, twins Ellery and Ezra come to live with their grandmother as their mother Sadie is in rehab after a stint which almost killed her. This

small town

is haunted too and known for having missing girls. Twenty years

ago,

it was Sadie's twin sister

Sarah,

Five years ago it was Lacey and now that Ellery and Ezra have arrived in town -one of their classmates Brooke has gone missing. Are the missing girls all connected especially since they all have one thing in common - they were all part of the homecoming court. As Ellery is interested in

real

crime and one of her new best friends is considered the main suspect - Mal Kelly, she starts to explore all angles. Ellery better

is

careful though as she

begins

to

receive

some

offensive

threats of her own

.
Meanwhile,
Ellery and Ezra will also discover the true identity of their father, someone their mother has kept her lips sealed

about

. I did enjoy this book,

and

the ending did answer some questions, but not the one I wanted which was to do with Sarah's disappearance though we do get a snippet of it. Two Can Keep a Secret was a mix between The Cheerleaders by Kara Thomas and Broken Girls by Lauren Oliver. Maybe Book #3's title will be Three of Us is Dead ??