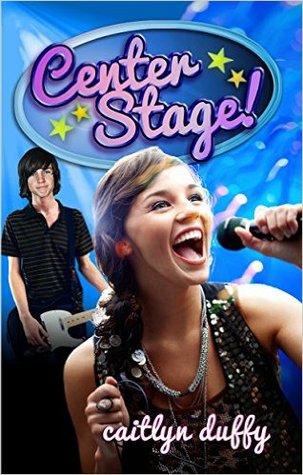 Review: Center Stage - Caitlyn Duffy - September 2015
All Alison Burch wants and dreams of is being a famous singer , it wouldn't be that hard as her best friend's father is famous musician Chase Atwood - but her friend Taylor isn't into that scene and her family aren't the average Hollywood types. On a whim, Alison decides to enter into the Center Stage competition - this competition is a reality TV music show and is set up like The Voice where each singer will ask you to be on their team. Alison fakes her age and gets an audition and to her surprise gets on the show, now she must come clean to her parents if she wants to move to the next round of the show. Also her friend Taylor's dad is one of the hosts , but she hasn't seen Taylor since her mum's funeral - will the friendship be a happy reunion or will it be a disaster as they both want different lives ? One of the show's requirements is that the contestants do not fall in love but what happens when they are down to the final three and Alison and Elliott start having feelings for each other , can they hold off till the end of the show or will their feelings overpower their senses and ruin their chances of becoming famous ? Will the pair choose fame or love ?
Center Stage is a teen read , but I would say due to the content it is appropiate for tweens aged 12 and up to 16-17 years will enjoy.