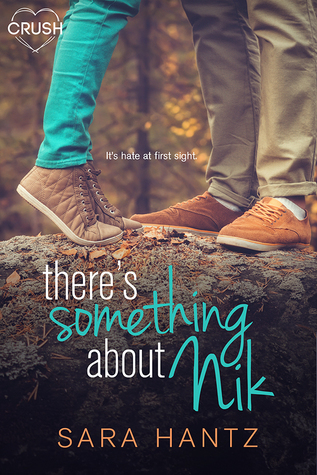 Review: There's Something about Nik - Sara Hantz - February 2017
I have to admit that I am a little torn with this review as I was in two minds with Sara Hantz's new

book.

There's Something about Nik. First off, I was excited to read this as something that I have always loved is when royalty or someone famous goes undercover and

lately,

I have been on a royalty kick with books. The other thing is I normally love these stories as they are like Cinderella tales. There's Something about Nik had these qualities as Nik is a Prince from a small country in Europe. He has come to America undercover as a high school student to experience life in an American boarding school and has been staying and will be rooming with Josh who is family friends with the Royals. The book does also have the Cinderella ending with Amber falling in love for now with Nik as remember it's still a teen

novel,

no marriages yet. Now to the part that made me struggle reading There's Something about Nik - the characters of Amber and Nik which by the way are the main two leads in the

book,

so of course you can feel my frustration as I wanted to love this book, but I couldn't.

Nik which I do understand is used to his royal servants and the people below him and accustomed to a different lifestyle, so it only made sense that he came across pompous but Amber, she was the one that ruined it for me as she was so freaking irritating as her hate for Nik basically radiated off the page. I found the everyday interactions between Amber and Nik to be so awkward even for my reading pleasure.

I do have to

admit,

though, that I think if I had been younger and hadn't

been exposed

to this storyline in multiple stages and books - I might not be this jaded about the book and who knows I might have loved it to pieces.

Overall,

I think this particular book "There's Something about Nik" by Sara Hantz

is aimed

and suitable for teens aged 14-18 years, rather than my 29 years.