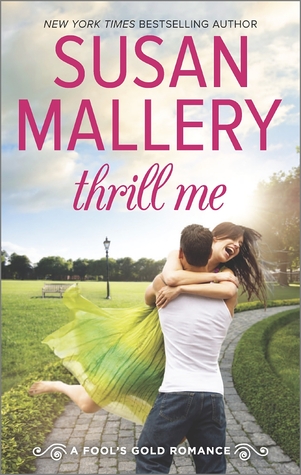 Review: Thrill Me - Book #18 Fool's Gold Series - Susan Mallery - July 2015
One of the things I love most about Susan Mallery's series "Fool's Gold" is not only the smalltown romance feel , but also the fact that the Women are in charge of the town and the men are included but Women are given a more equal and fair opportunity for success. Thrill Me is the contemporary romance story of Maya Farlow and Del Mitchell. Years ago Maya was in love with Del and things were going awesome , well as they both believed and then Del asked Maya to marry him and the rest is history as they say. Years passed and they both got on with their lives but of course Maya and Del never forgot one another and how they each broke each other's hearts. Growing up Maya had always learned that in life she had to not depend on people as they would never be around forever and this caused her to build up the walls around her heart. During this time she fell in love with one of the town's bad boys Del Mitchell , when she found herself falling head over heels for him and knew for herself , there would be no point of return she did the only thing she knew she could in order to save herself from hurt and pain in the long run - she ran. Del Mitchell , had thought he had found the one that he wanted to be with for the rest of his life , but when she ran and dumped him. Reeling in heartbreak, he packed up and left and went on to make a name for himself as a celebrity in the world of Extreme Sports. Now Ten years later Maya is working for Fool's Gold as their town promoter and has been hired to create a new slogan to represent the town and the Mayor has a perfect partner to help her - Enter Del Mitchell who is back in town. Now the pair are forced to work together and in doing this it brings back old memories that are probably left forgotten but with that emotions start to run rampage. Can the pair give their romance another go and is love throwing them a second chance and is the town of Fool's Gold - really a land of Happy Endings ?
Find out in Thrill Me by Susan Mallery.