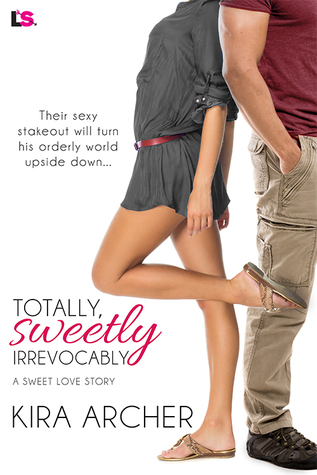 Review: Totally, Sweetly, Irrevocably - Book #2 Sweet Love Series - Kira Archer - June 2016
Ever since Gina Silvano was a little girl, she has hated Policeman - especially the ones that cite off at her "we are just doing our jobs and following the law". As when she was little she was taken by a policeman after her mother left her home alone one night when she was busy working and couldn't get a babysitter, she wasn't abandoned as her mother checked up on her and it was only for a couple of hours but it was enough for the police to get involved and take her away from her mother. Personally, this part I could relate to as on a personal note - I have seen this first-hand with my sister yet you read articles in the paper about how abusive families get to keep their kids and have ended up killing them yet, loving families have the children taken away from them and not given a chance. Anyway , back to the story - someone has been tampering with Gina's bakery food truck and as she has no evidence - the police can't do anything about it , so she has resorted to staking out her own truck. All is going well until one of the neighbours - an old busybody calls the police on Gina. They arrive and are surprised to find she isn't their usual Peeping Tom suspect and also she has a bit of Sass and Sarcasm going on there. Officer Rick Boyd is a rule follower, so much he has even given his sisters' tickets for breaking the law while driving. In order to try and keep Gina out of trouble he strikes her a deal and the pair become stake-out buddies and soon there are possible sparks flying between the two of them. However can Gina and Rick find a balance of good and bad or are they too different that they will never work out as a couple ?
Find out in Entangled Lovestruck's HEA sweet romance "Totally, Sweetly, Irrevocably' by Kira Archer.