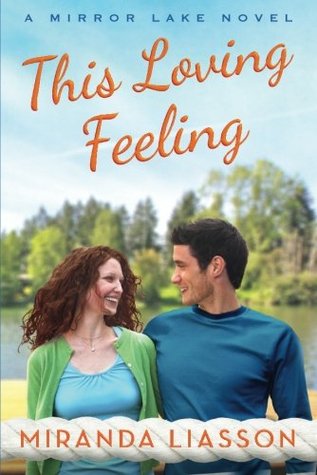 Review: This Loving Feeling - Book #3 Mirror Lake Series - Miranda Liasson - July 2016
Seven years ago, Samantha Rushford was a vibrant girl , a risk-taker with a rebellious side and was in love with a local boy named Lukas aka Spike. Then tragedy happened and her brother died and Lukas disappeared. Next thing she knew, she was a different girl and had a steady yet boring boyfriend Harris and the guy she loved had moved on to bigger and better things as he became a music success story. One thing that she hated though besides Lukas leaving her was the fact that he stole the lyrics she had written him and he used it for his Number #1 song. What Sam doesn't know though is that all of his songs have been about her. Now Seven years later, Sam is a teacher at the local high school in Mirror Lake and is still dating Harris who is now on his way to becoming a Senator . She is even looking to move to Boston,to be closer to Harris. That is until one night, starts to turn her life upside down and set her feelings and allow her true self to be revealed - a side she has hidden away for seven years. Music celebrity Lukas is back in town and he arrives at the high school Prom as the music , he also has a secret - he is now the guardian of his four year old nephew Stevie - whom I loved in this book, he was such a cute character and had me awhing in places. Soon sparks are re-ignited between Sam and Lukas, but will she act on her emotions especially since she is practically to be engaged to Harris ? Will Sam allow Lukas back into her heart and will she be able to walk away from little Stevie as they become closer and form a mother/son bond throughout the novel ?
Find out in this sweet Smalltown Romance "This Loving Feeling" by Miranda Liasson - a novel that shows us sometimes , life is worth taking a few risks in order to achieve happiness and that more often than not - the safe option is not nessecarily the right choice.