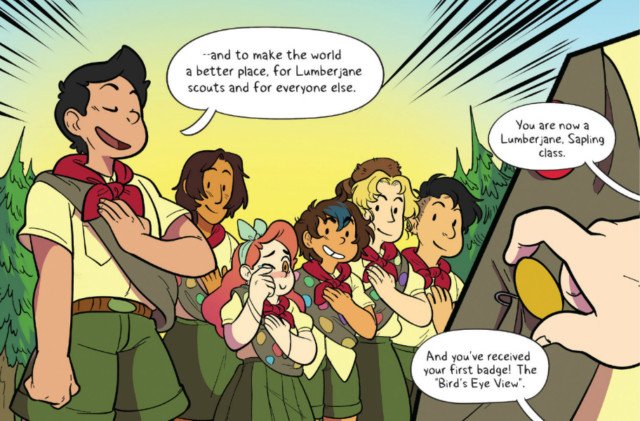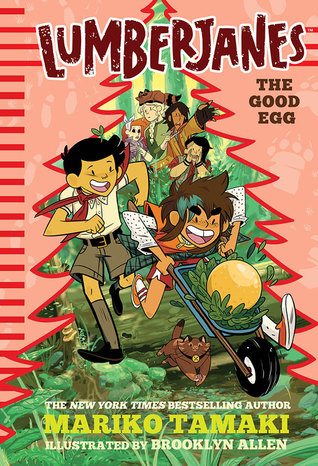 Review: The Good Egg - Book #3 Lumberjanes Chapter Books - Mariko Tamaki/Brooklyn Allen - October 2018
It's time for Lumberjanes as I bring you the last chapter book in the Lumberjanes series, I did find it nice reading a chapter book for a change about their adventures rather than a graphic novel as the favorite thing about the books is that throughout the book it gives you a detailed list of some of the awesome badges that were mentioned in the story.
In The Good Egg, Ripley is feeling a little lost without their friend Castor and the team spirit of the Lumberjanes is lacking morale. They need another challenge, something

exciting.

Therefore Rosie has invited on a former theatrical Lumberjane,

and

the cabins are being mixed up and have to

perform

a

fairytale,

but they also have to change the story up a

bit.

None of this boring original crap. While this is happening Ripley on one of her journeys found a nest of golden eggs and she nicknamed the baby egg Eggie. Someone has stolen the egg and Ripley is sad and

depressed,

now it is up to the some of the Roanoke and Zodiac

cabins

to save the egg from the tacky dressed Order of the Egg

.
Meanwhile
, Jen has trouble back at camp as a group of Griffins are also searching for their egg. It

is said

that Griffins love music, so can the other Lumberjanes back at camp led by Mal and Molly put on a fabulous show. Can the Lumberjanes once again save the

day?

Find out in The Good Egg by Mariko Tamaki and Brooklyn Allen,

and

as the Lumberjanes sign off I bid you

"Friendship to the Max

."