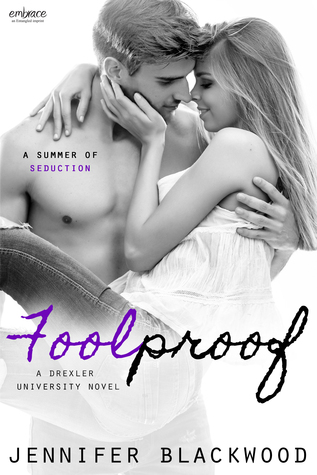 Review: Foolproof - Book #2 Drexler University Novel - Jennifer Blackwood - January 2015
After loving Book #1 Unethical , I couldn't wait to read Foolproof so when I saw it available on Netgalley I had to request it and I am glad I did. Just like Book #1 , I loved Foolproof. Unlike Book #1 though Foolproof takes place during Summer Break and focuses on Jules whom we meet in Unethical - she is Payton's friend and roommate. Those who have read Book #1 will remember Andrew who was selling prescription drugs , he sold some to Jules which caused her to go to rehab and now she is out of rehab and busy squirrelling away at Office Jack's. Enter Ryan - he is the son of Jack - the owner of Office Jack's and home for the Summer till he decides what to do with his life. He is due to head to the Police Academy after the break, but unsure that it is the actual direction he wants to take. Sick of relationship drama but hot on Jules , he discovers in a girly magazine an article titled "The Six Foolproof Tips to a Summer Fling" . He tries this on Jules and soon the two of them are having fun and things have the possibility of becoming serious . What will happen though when Ryan's psycho high maintenance ex-girlfriend Lexi comes back into the picture and Jules finds the article ? Will Ryan get a second chance with Jules or has he blown it ?
If you love College New Adult stories, then Jennifer Blackwood's Drexer University Series should be at the top of your reading lists.