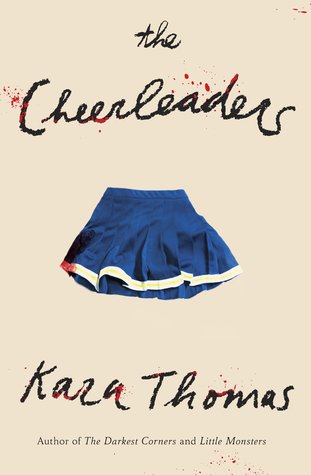 Review: The Cheerleaders - Kara Thomas - July 2018
Five years ago, a tragedy struck the

small town

of Sunnybrook as

there

were

Five cheerleaders and best friends and by the end of the year, all five would be dead. Now five years later, the school are wanting to do a memorial to the five girls and Monica is being asked to talk as her sister was one of the five. As Monica though starts to do some research about what happened as she can't believe that her older sister would commit suicide - she knows something else

going

on.

Monica along with new friend Ginny will start to unravel and bring some truths that someone wants to be hidden from five years ago to light and casts a further shadow on what really happened to all five girls and Monica if she's not careful might end up in the ground like her sister , as she discovers that she has been close to one of the killers from five years ago .

I liked how the story and each of the deaths interwove and

found

that it wasn't such a conspiracy but a range of freak accidents that ended up having all five girls dead by the end of the year. I have to say when I finished the book, I felt for the character of Monica and Ginny and what they have had to put up with and hide for the past five years.

This

was a good read and written in the same way that the fad of late 90's early 2000's high school horrors trend. Think a 2018 version of I Know What You Did Last Summer and Scream,

and

you have The Cheerleaders by Kara Thomas.