Review: Tell Me No Lies - A.V Geiger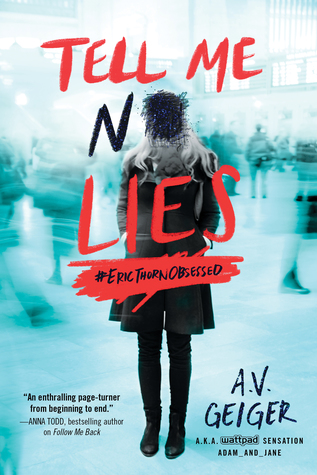 Review: Tell Me No Lies - Book #2 Follow Me Series - A.V Geiger - June 2018
At the end of Book #

1,

we read as Tessa and Eric

disappeared,

all that was left was cracked cellphones and a trail of Eric's blood. What had happened that fateful night when Eric went to see Tessa one last

time?

Three months later, we read as Eric and Tessa have popped up in Mexico living in a caravan and enjoying life as free people. The thing is though that they are about to discover that no-one in showbusiness can ever be

free

unless a

tragedy

occurs. When a news report shows up about Dorian being found alive, and a crazed fan framed for his murder - it starts to get Tessa worried that if the

public ever sees them

- will that be how the music world make Tessa out to be - a crazed fan who kidnapped the star,

Eric

Thorn?

Think Misery for Teens. Soon their whirlwind romance and hiding away is

over

when they are discovered and betrayed. Soon Eric is back singing away and being the

pop star

every girl on the planet,

and

Tessa is in the background being his social media

representative.

As Eric goes on with his role, Tessa starts to feel that their relationship and romance was as fleeting as some rockstars

career

as she is being pushed further into the background and away from Eric.

What happens though when tragedies start to happen, and actual murders occur, and it looks like someone has it out for Tessa and wants her either framed for the murders or locked up where she can't be anywhere near Eric ever again?

Can Eric save Tessa once again and prove to her and the world that he loves her always ?
Find out in this sequel Wattpad story - Tell Me No Lies by A.V Geiger aka

Adam_and_Jane.