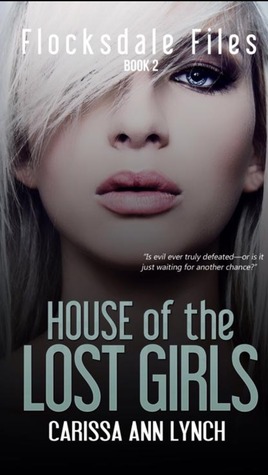 Review: House of The Lost Girls - Book #2 Flocksdale Files - Carissa Ann Lynch - November 2015
For those who read the first book in this series "Have you seen this Girl ?" will know that the first book contained a family who were killing and trafficking girls , each member of the family were involved -right down to the children. One of the captured survived and escaped and got revenge on those who hurt her - Wendi Wise. Years later Wendi went on to marry Jonathan Milby - the cop who saved her. Now almost twenty years later , seventeen year old Marianna is moving to Flocksdale with her mum and her new boyfriend Garrett. While out touring the town of Flocksdale Marianna, comes across a bookstore with a book called "The House of the Lost Girls' which details all the horrors of the murders and stories that went on. Turns out that the house she is moving into , was that very same house and this gets Marianna thinking her new dad to be is involved. When a girl goes missing and ends up dead, have the murders started up again ? What happens though when Marianna tries to contact her mum -only not to find her , has she fallen victim too ? Now armed with the book and her own curiosity , Marianna will head to Wendi and ask for her help. But when Wendi tells Marianna the truth about the house and her life , will Marianna believe Wendi or will she take her mother's side ?
Find out in another amazing mystery/ psychological thriller "House of the Lost Girls" by Carissa Anne Lynch.
I am really looking forward to reading more of what Carissa brings to the table as her books keep the readers enthralled and wanting to find out what happens with the touch of suspense.