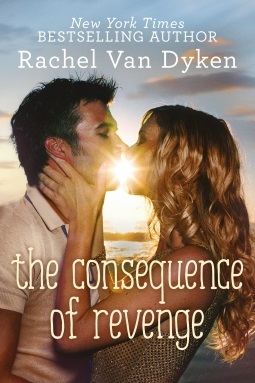 Review: The Consequence of Revenge - Book #2 Consequence Series - Rachel Van Dyken - June 2015

Now I know this is another series that I managed to read out of order , I seem to have a nasty habit of that - I do try hard not to honest ... but it never seems to go my way. Thank goodness though that most New Adult stories these days are stand-alone so even if you read them out of order, you can still catch the gist of what is happening. In The Consequence of Revenge, you will remember that in the first book Milo fell in love and married Colt which left her best friend Max without the women he thought he loved. Now in Book #2 Max has been a depressed version of himself and his friends are sick of his moping around so Jason, Milo and Colt have pooled their resources and pretended to be Max and signed him up for a new show which is similar to The Bachelor. This show though is The Bachelor meets Survivor style and Max will not only have women competing for his love but also having to do some island survivor style activities including a snake called Edward down his pants. One of my favourite things about this series is the humour that the friendship of Jason, Max, Colt, Milo and Reid have together - the banter alone is enough to make anyone want to read this book and laugh out loud as you turn the pages. The kicker with this book is that the girl Max tries to work his lines on happens to be one of the contestants on the new dating show. Will being on the dating show give Max the edge to finally get his lines to work on her or will his heart be captured by another on the show ? What will happen though when his brother Reid turns up with revenge on his mind after The Gummy Bear incident and when the Emory brothers get together - the antics rise to a whole new level - one that readers didn't know existed between siblings .
If you love New Adult Books, Romance and lots of witty banter and humour that you can LOL too, then check out Rachel Van Dyken's series Consequence and Book #2 The Consequence of Revenge as you will not be disappointed.