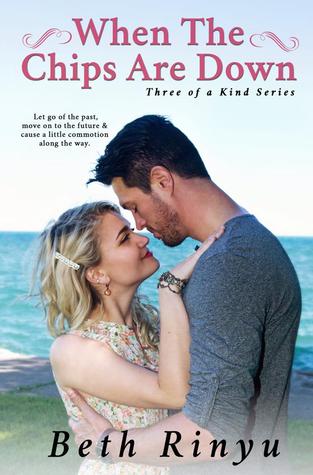 Review: When the Chips are Down - Book #1 Three of a Kind Series - Beth Rinyu - March 2015
Melanie Hanson married her husband Alec and had two beautiful twin daughters, and all was going well until she walked in on her husband having sex in his office with his secretary. Now Melanie is a divorced mother at 40ish with two sixteen year old daughters and her ex-husband is married to his secretary and getting ready for a new child. Melanie's friend Jodi takes her to Mexico for a girl's weekend and after a few drinks Melanie wakes up next to a guy and they come to an agreement of What Happens in Mexico, Stays in Mexico and they choose not to swap names. Now back home two months later, Melanie is working at her Wedding shop when she spots a plumber fixing the pipes - turns out the plumber is Ben Wilder - a guy who made her life living hell during their high school years. Though they have both grown up hot since then. Ben and Melanie start to put their past aside and find themselves spending more time together , though what will happen when Melanie is called to school to discover her daughter's Carrie and Gia's Math teacher is none other than Mexico Guy. Gia has been dating a guy called Paul and things have started to get a bit serious with skype sessions, parties and hook-ups but what will happen when she turns him down for sex and rumours start flying through the school about Gia ? Carrie who has normally been the good twin has started tutoring Jason and starts having feelings for him but her heart is torn as she has a crush on Mr. Miller aka Mexico Guy and it turns out that Jason's father is none other than Ben Wilder - Plumber and her mother's new boyfriend ? If life for this family wasn't already complicated enough , what happens when Alec - the girl's father comes begging to take Melanie back ?
Find out in this romance and drama-packed family saga of a book "When the Chips are Down" by Beth Rinyu , Book #1 in her series "Three of a Kind".