Review: Addicted To You - Becca and Krista Ritchie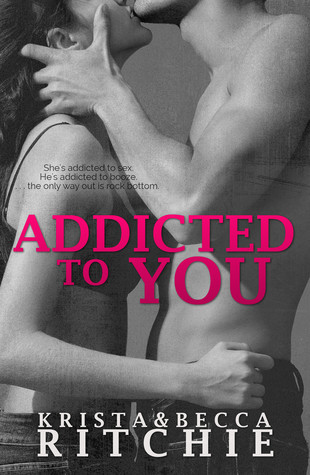 Review: Addicted to You - Book #1 Addicted Series - Krista and Becca Ritchie - May 2014
This
is a series that one of my friends is in love

with,

she kept going at me to read it and I needed something to read after finishing my current read, so I decided to give it a go. During the

read,

I would be able to tell her my thoughts about the book and give her my running

commentary

seeing as she had already read it. I went into this book only knowing it featured Lily Calloway and Loren Hale, nothing more. It was such a good read as we meet Lily and Lo who are in a "fake" relationship as they are both hiding their addictions and in a way enabling one another. You see Lily is addicted to sex and Lo to alcohol. During the

book,

we read as they try and make their way through their everyday lives giving into their addictions and trying to hide them from everyone else especially their families. That is until they meet Connor Cobalt who is in love with Lily's sister

Rose.

Connor brings Ryke into their

lives,

and he seems adamant on saving Lo. At

first,

I thought he

was just

a good friend but OMG that twist when Ryke's true identity

is revealed,

it made me go AARGH. I have to say I fell in love with the character of Lo and not to give away the story but that

ending; I

was like NOOOOOOOOOOOO why did you have to end it this

way.

Part of me knew and understood the

reasoning,

but the other half was like NOOOOOOOOO I want a good rounded HEA not this sort of one. After finishing this

book,

I went home and downloaded Ricchochet onto my Kindle which is the next book in the series. I can say Addicted To You has made me want to read more of the series and delve deeper into the Calloway and Hale families.