Review: A Cowboy's Sweetheart - Crista McHugh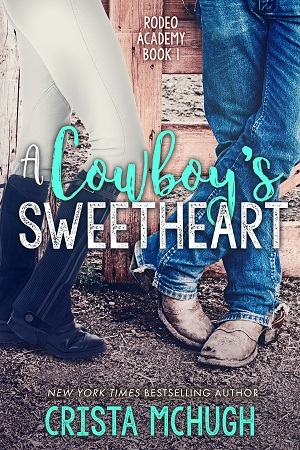 Review: A Cowboy's Secret - Crista McHugh - June 2018
Kensington Pope is a spoilt rich

girl; even

her name screams wealth. After her latest antics, her parents have decided to ship her off to her aunt's house in Wyoming. Her aunt and uncle own a Ranch out there and a Riding Academy where they teach Rodeo.

This

is going to be a massive wake-up call and adjustment for Kensington as all her life she has only had to look out for herself as her parents don't care as long as she isn't causing trouble for them. At

first,

this seems like hell for Kensington but soon she starts to try,

and

her eyes are opened up to another

world.

A world where people don't have money to rely

on,

a world where people genuinely care for one another and don't try to buy their love with material things. Javier Cruz has lived a rough life and is working hard to get his family

back; he

doesn't need any distractions especially not a rich spoilt white girl. However, as he starts to spend more time with

her,

he soon

realizes

she has no-one and is just crying out for love and attention. I liked this book as though Kensington

was spoilt

at the beginning, you could see her character blossoming near the end of the book and that she loved her aunt and uncle and cousin Sierra more than anything in the world.

This

does have an OMG nooo moment with Sierra,

but

it is what brings Kensington around and shows her that in moments of

need,

that's

when real families and the ones you love come together to form a stronger bond/unit. I liked this book and am looking forward to where the series takes us and hoping Sierra gets her own story.