Review: More Than We Can Tell - Brigid Kemmerer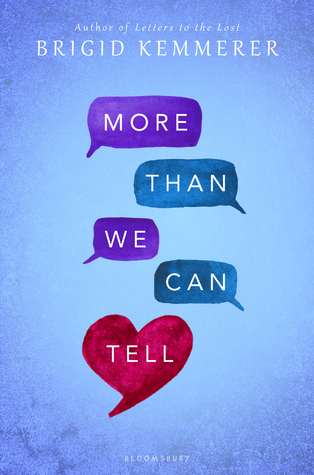 Review: More Than We Can Tell - Book #2 Letters to the Lost Series - Brigid Kemmerer - March 2018
First things first, though this is Book #2 in the Letters to the Lost series, it can be read as a stand-alone book. In this book, two socially awkward outcasts will find solace in talking to one another and eventually help one another move forward with their lives during their darkest times. Emma and Rev have their problems but no-one really to share

with

. Emma is a gamer and coder and created her own game, hoping to follow in her Dad's footsteps. What will happen though when Emma starts to

receive

threats and then the one person on the net that she thinks she can

trust,

turns out to be an even more dangerous threat to her ? Rev wants to move on with his life, but what happens when his past starts to catch up with him when he starts

receiving

emails from his father who was a religious fanatic and abuser ? This was a powerful and emotional read and made me feel like it was a cross between Jennifer Armentrout's The Problem with Forever and Punk 57 by Penelope Douglas. More Than We Can Tell shows readers that sometimes you will find friends and maybe sometimes a bit more in the most unexpected ways and when you less expect it , but often when it's needed the most. After reading briefly about Rev's friend Declan and his girlfriend Juliet - I am now looking forward to going back and reading the first book which tells their story.