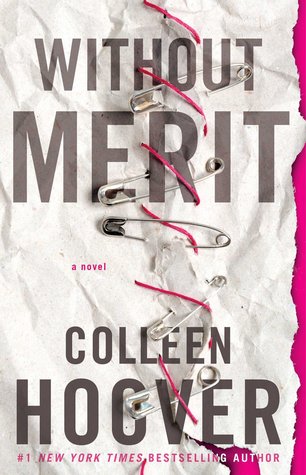 Review: Without Merit - Colleen Hoover - October 2017


As a fan of Colleen Hoover's

books,

I had been looking forward to reading this book especially when the cover was released,

and

I instantly fell head over heels for the cover. I have to say this book was different to anything I have read but I loved it as it showed readers what true dysfunctional families are like and that no matter what family you belong

to,

all families have quirks and

secrets.

Within With

Merit,

we have the Voss family who out of spite brought an old church and made it their home. In the Voss

family,

we have the OG wife

Victoria,

her twin daughters Merit and Honor and their older brother Utah. Then we also have her Dad and his new wife also known as

Victoria,

their son Moss and later Victoria's brother Luck. Also added to the crazy mix is a dog named Wolfgang and Sagan. The book starts with Merit kissing Sagan who later turns out to be attached to her twin sister Honor. Then one thing leads to another,

and

we

are thrust

upon a

cray-cray

household filled with dark secrets, estranged family members, quirks.

This

goes on for most of the book until Merit can't swallow her tongue anymore and explodes releasing all of the secrets that the family have been hiding and then does something stupid. Will her act of stupidity and wanting to

die to

bring her family together or will it push them further

apart?

What would the Voss family be like Without

Merit?

Find out in Colleen Hoover's latest release which also just won Goodreads Choice Winner for 2017.