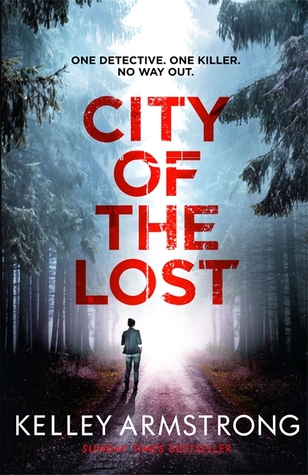 Review: City of the Lost - Book #1 Casey Duncan Series - Kelley Armstrong - January 2016
What would you do if someone ruined your life and everything you have worked for because they were stupid and a coward ? For Casey Duncan, she ended up killing him and then for the next decade she lived with the guilt of her crime. The novel fast forwards to about 10-12 years in the future and Casey is now a Detective and working for the local police and her best friend Diana is being abused by her ex-husband. Casey will do anything for her friends and is about to prove exactly the lengths she will go for as her friend Diana's last beating leaves her near-death. Diana has heard about a place where people go to disappear and all traces of them are gone from existence. There is a whole town dedicated to those who want to stay off the grid. Some call it paradise, others the City of the Lost. Diana and Casey get in and it turns out they are in need of a Detective as some strange deaths and occurences have been happening in what should be a peaceful town. In the town Casey pairs up with the Sheriff Eric and soon sparks fly, but can Casey settle down with someone who doesn't get pop culture references or has no idea what an Ipad is ? Originally made as a serial and now into a full-length novel , City of the Lost is a different theme of book to what Kelley Armstrong is used to writing as she tends to go with her paranormal/supernatural themes and at first glance of this book and reading the blurb you may think that the City of Lost houses some paranormal aspects but it doesn't. In a way I found this book moving towards more of a Serial Killer , Suspense filled novel and was nice to read something different for a change as I have read the majority of Kelley Armstrong's titles as she is one of my favourite authors.
The other thing I loved about this book readers, is that there are several twists and turns and suprises throughout the book which will leave you thinking - What just happened and OMG how I did I not see that ? If you love Romantic Suspense and hidden towns/secrets then look no further with Kelley Armstrong's new title "City of the Lost".