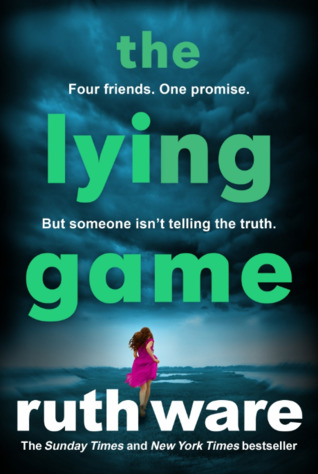 Review: The Lying Game - Ruth Ware - June 2017
Four friends at High School started a game called The Lying Game. They got points based on their lies and the more elaborate or more people

believed,

the more points they got. That was until tragedy struck and the four girls did something that night that they never thought they would and eventually they were kicked out of the school and for three of

them,

they never

returned

to Salten. Now fifteen years later, the four of them will reunite when they

receive

a text message reading "I need

you."

Isa,

now a mum takes her baby to Salten, Thea arrives and Fatima.

Their friend Kate has summoned them

. A body part has washed

ashore,

and the part could

be connected

to Kate's dad who died those many years

ago,

and they hid his body in the water. Many people thought that he wouldn't just disappear and that the girls had something to do with his disappearance. What will happen though when all four

starts

to

receive

text messages,

notes,

and photos - with the message I know what you did. Read as the one lie that could ruin them forever starts to unravel and in the process ruin the lives that they have created when the lies start to affect the families. I didn't see the twist coming and was shocked at the real truth about what happened that fateful

night.

The stalker, I did guess that part pretty early on. If you are looking for a high school reunion, scandals and secrets from the past

being uncovered,

then check out UK author Ruth Ware's book "The Lying

Game,"

a mystery that won't disappoint.