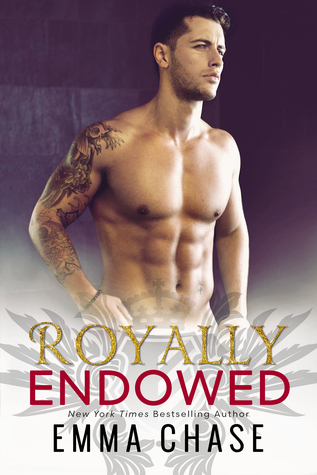 Review: Royally Endowed - Book #3 Royally Series - Emma Chase - August 2017

In Book #3 we are reunited with Nicholas's bodyguard and trusted friend Logan St. James and Olivia's sister Ellie. For those who will

recall,

when Nicholas first spotted Olivia in the bakery he had Logan with him and then when the pair decided to head back to Nicholas's

hometown,

Logan was given the job to stay behind and watch over Ellie until she graduated. Five years

were

spent with Logan watching over Ellie and the pair despite their growing feelings for one another did pretty well avoiding their love for one another as they didn't cross that boundary line. Ellie has accompanied Logan back to

Wessco

as Olivia is preparing to give

birth.

The Queen has ideas for Ellie on who a suitable match will

be,

and there is

definitely

no bodyguards on the list. So begins eventually a secret romance between Logan and Ellie but what will happen when they are discovered and pushed both to their limits as

ultimata

rise ?

More so now when a stalker appears and if he can't have

Olivia,

then he will have to grab the very next best thing - Ellie. There is a scene near the end of the book, where my heart stopped a

bit,

and I was like NOOOOOOOO this can't happen but thankfully Emma Chase had another angle in mind. I did enjoy Royally

Endowed,

but would still have to admit that this may have been probably my least

favorite

out of the three. One of my

favorite

parts of Royally Endowed was seeing all my

favorite

characters in one book - especially Lady Sarah and Henry, or should I say soon to be King Henry. I noticed at the end of this one that there

would

be another Book out featuring the other bodyguard

Tommy,

so I am looking forward to reading that book and discovering more adventures in the world of

Wessco

.